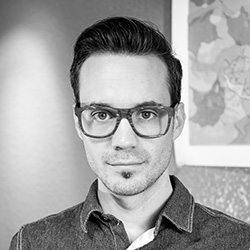 A BIT ABOUT THE ARTIST
John Huber is an artist of sight, sound, and play. With over a decade of experience as a graphic designer John's passion for art and design has led him to interesting places. With photography as another extension of his visual art, whether capturing a moment or creating a scene, his camera is never far from him. Be it design, photography, or play, John can be found pushing art forward wherever he is. He loves what he does and that shines through in every project he is part of.
He is a kid at heart with a passion for the Yo-Yo. As a Yo-Yo player and graphic designer, he's had the fortune of being part of something special and making a lasting impression on the industry. From tricks to style, from competition to worldwide stage, that simple, innocent toy has taken him all over the world and John's design reflects that global experience. In business, John has helped redefine the way the Yo-Yo is represented in the world and set the pace for the entire industry.
Open to where his art takes him, John doesn't close any doors on his journey. His openness to working with other creatives and his special relationship with music has allowed him to play his style of drums in various projects. John never stops pushing himself artistically and music is no exception. Whether it's work or play. In every aspect of his life, John Huber is an impressive artist of sight, sound, and play.
"
These aren't just things I do, or how I make a living. This is who I am. Some say a good job is the kind that doesn't feel like work. I think sometimes it should feel like work, because at times it is hard work. But it's worth it, because I love what I do.
"
More at
theJohnHuber.com